Being A Managed Services Provider means we can be a single point of contact for your business IT Solutions, offering you a complete workforce solution or the flexibility to choose the level of management that suits your business and your budget.
ONLINE SUPPORT
Real time online support, using our sophisticated Tag & Repair maintenance system, promises you zero downtime and overall increase in efficiency.
ICT Group provides an advanced, tech-driven solution for your business, enabling you to run your business for a fraction of the cost. Be it a cloud based or hybrid network environments, we ensure your environment is running at full speed with zero outages.
KEY DIFFERENTIATORS:
FLEXIBLE ENGAGEMENT MODEL: Instead of a flat monthly fee, we offer solutions and pricing based on your changing IT needs. You don't have to sign up for any yearly contracts, now you can make use of our flexible pricing models.
THE RIGHT PARTNERS – Our partnership with one of the largest Telecom company, Telstra, and Microsoft and Cisco on tech side, gives us direct access to premium resources and support from vendors.
IT FOR DYNAMIC BUSINESS – As businesses scale up, their IT and telecom requirements also grow alongside. In order to meet this, IT systems need to be equipped to take the extra load and continue to function smoothly. We can be your trusted partner during your next business expansion.
SMART DELIVERY MODELS – Our experience and on-going research in this field has allowed us to create workable delivery models that can be customized as per the user needs.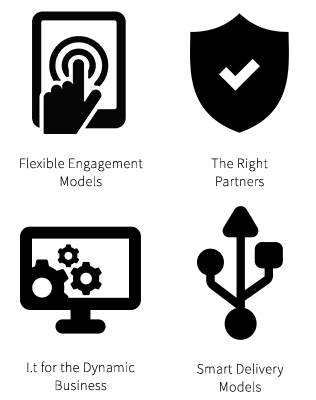 HOW IT WORKS
We provide your business with a simple technology management plan.
Choose the level of response your company requires varying from 2, 4 & 8 business hours
Includes configuration of IT systems
We provide you with onsite visits from one of our qualified consultants and a dedicated client engineer
You will receive ongoing helpdesk support
Remote support via phone or internet
Firewall management and maintenance
Ongoing maintenance of your documentation
Flexible contracts of 12-36 months
Backup management and maintenance – planning for loss of a critical process
Monthly activity reporting
We have provided cutting-edge IT solutions to an extensive range of private and public sector organizations. Each new project comes with its challenges. We like to embrace the opportunities that digital technology presents to find solutions to those challenges so that our clients can thrive in new business environments.
We've helped various oraganizations to achieve better business outcomes through communication and technology. Get in touch to know more!